Biography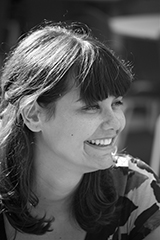 Linda Loef is a freelance fashion stylist who lives in Milan. She is involved in magazines and other commercial ventures in both the Netherlands and Italy.
She was born in Rotterdam in the Netherlands. Since she was fourteen, Linda knew that she wanted to work as a magazine fashion stylist. In 2004, her dream came true when she graduated from the Amsterdam Fashion institute. In order to further develop herself, Linda chose to do an intership at Dutch magazine Flair as part of her training. Immediately after earning her qualification, she started working for various prominent Dutch magazines as a freelance fashion stylist.
Linda is quick to form images in her mind, which she displays on a mood board. Using this, she selects matching clothing and accessories. With just a few photographs, she creates an expressive and finely detailed portrayal along with the model, the photographer, the hair/ makeup artist.

In 2009, Linda decided to take on a new challenge and relocated to Milan to continue her career as a stylist. For a year, she worked for Amica as an assistant stylist, after which she was approached by Myself Magazine (Conde Nast). Linda's creations are diverse and, thanks to her experience, her portfolio boast clients ranging from fashion magazines to advertisers. Because of her flexible and creative attitude, she is able provide her clients with fantastic final results.
Photo: Valeria Cantone